Page 8 - NEXEDGE NX-5000
P. 8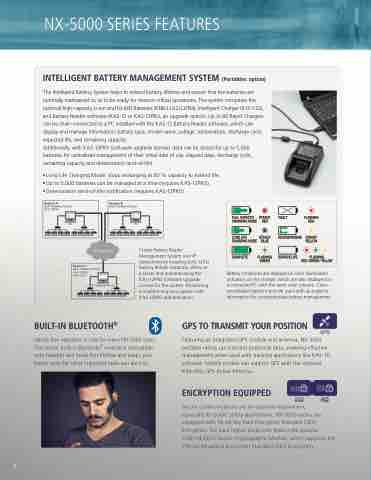 8
NX-5000 SERIES FEATURES
INTELLIGENT BATTERY MANAGEMENT SYSTEM (Portables: option)
The Intelligent Battery System helps to extend battery lifetime and ensure that the batteries are optimally maintained so as to be ready for mission-critical operations. The system comprises the optional high-capacity Li-ion and Ni-MH Batteries (KNB-L1/L2/L3/N4), Intelligent Charger (KSC-Y32), and Battery Reader software (KAS-12 or KAS-12PRO, an upgrade option). Up to 60 Rapid Chargers can be chain-connected to a PC installed with the KAS-12 Battery Reader software, which can display and manage information: battery type, model name, voltage, temperature, discharge cycle, expected life, and remaining capacity.
Additionally, with KAS-12PRO (software upgrade license), data can be stored for up to 5,000 batteries for centralized management of their initial date of use, elapsed days, discharge cycle, remaining capacity and deterioration (end-of-life).
l Long Life Charging Mode: stops recharging at 80 % capacity to extend life. l Up to 5,000 batteries can be managed at a time (requires KAS-12PRO).
l Deterioration (end-of-life) notification (requires KAS-12PRO).
System A:
KAS-12 Battery Reader KAS-12PRO
PC
System B
KAS-12 Battery Reader
IP Network
KAS-12 Battery Reader KAS-12PRO KAS-12DU
PC (Database Server)
Create Battery Reader Management System over IP networking by installing KAS-12DU Battery Reader Database Utility on a server and authenticating the KAS-12PRO Software Upgrade License for the system. Monitoring is enabled only on a system with KAS-12PRO authentication.
System C:
Figure 1-3 Charge Monitoring System Diagram 3
BUILT-IN BLUETOOTH®
Hands-free operation is vital for many NX-5000 users. The radios' built-in Bluetooth® module is compatible with Headset and Serial Port Profiles and keeps your hands open for other important tasks you are into.
GPS TO TRANSMIT YOUR POSITION
Featuring an integrated GPS module and antenna, NX-5000 portable radios can transmit positional data, enabling effective management when used with tracking applications like KAS-10 software. Mobile models can support GPS with the optional KRA-40G GPS Active Antenna.
ENCRYPTION EQUIPPED
Secure communications are an essential requirement,
especially for public safety applications. NX-5000 radios are equipped with 56-bit key Data Encryption Standard (DES) Encryption. For even higher protection there is the optional KWD-AE30/31 Secure Cryptographic Module, which supports the 256-bit Advanced Encryption Standard (AES) Encryption.
PC
Battery conditions are displayed in color illuminated indicators on the charger, which are also displayed on a connected PC with the same color scheme. Color- coordinated patterns provide users with at-a-glance information for comprehensive battery management.