Page 4 - NEXEDGE NX-5000
P. 4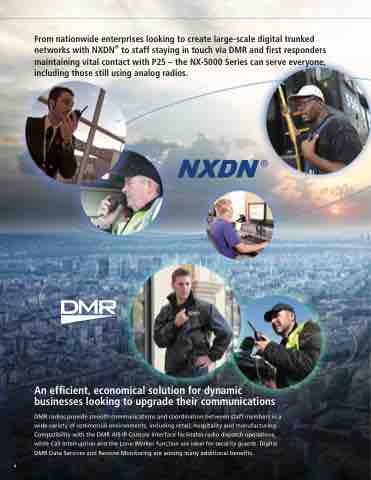 From nationwide enterprises looking to create large-scale digital trunked networks with NXDN® to staff staying in touch via DMR and first responders maintaining vital contact with P25 – the NX-5000 Series can serve everyone, including those still using analog radios.
       4
An efficient, economical solution for dynamic businesses looking to upgrade their communications
DMR radios provide smooth communications and coordination between staff members in a wide variety of commercial environments, including retail, hospitality and manufacturing. Compatibility with the DMR AIS IP Console Interface facilitates radio dispatch operations, while Call Interruption and the Lone Worker function are ideal for security guards. Digital DMR Data Services and Remote Monitoring are among many additional benefits.